Angela Brooks: President
Lorie Settle: Executive Vice President
Misty Sonnenberg : Treasurer
Tonya Ortega: Secretary
Tara Langerhans: Executive Board Member
Tiffani Hebert: Executive Board Member
Kim Snell: Music Director
Myia Oliver: Director of Ballet/ Resident Choreographer
Mrs. Brooks founded Camp Broadway Kids in March of 2006 in order to provide a musical theatre summer camp to 35 students. In just a few months, the summer camp had grown into a full youth performing arts program, and in August 2007, CBK was renamed San Angelo Broadway Academy Youth Theatre. In its history, she has had the pleasure of directing large companies in over 65 musicals such as Les Miserables, School of Rock, Spongebob , Hairspray, Tarzan, and Mary Poppins to name a few. Catching the acting bug from her great grandmother who performed with Sophie Tucker and Mae West on the Vaudeville circuit in New York, Mrs. Brooks has been dancing for 40 years, studying and training with top artists such as Joe Tremaine, Susan Stroman, Mia Michaels, Kathy Marshall, Jared Grimes, Debbie Allen, Gremaine Salsberg, Jason Samuel Smith, Jackie Sleight, Finis Jhung, Broadway Dance Center, Alvin Ailey, STEPS On Broadway, The Edge and Millinium Dance Complex in LA, and workshopped and danced with the Broadway revival cast from A Chorus Line. Having been an actress for over 38 years, she has worked on various voiceovers and major films, including the motion picture short, Texas America, Legally Blonde 2, The Manchurian Candidate, Man of the House, and 3 seasons in the NBC drama series, Friday Night Lights. Some of her favorite stage credits include Velma in Chicago, Nellie in South Pacific, and Roberta in Danny and the Deep Blue Sea. Mrs. Brooks holds a Masters Degree in Exercise Physiology from Angelo State University and a Masters in Theatre Arts from Texas Women's University. She is also a graduate of the New York Film Academy in Los Angeles and the American Academy of Dramatic Arts in New York, and is the 2019 Woman of Distinction recipient for Central Texas. She is a national award winning choreographer whose students have won multiple regional and national titles in jazz, tap, contemporary, and musical theatre dance and was recently recognized by the Broadway Community in NYC for her original production choreography with Continuum Dance Company. Her work can be seen across the country, and she continues to perform, study and teach dance, theatre, and film, as well as guest direct and choreograph for various programs and institutions. Her students are working professionally in New York, Los Angeles, Texas, and Florida, and have recently been seen on Broadway National Tours, Disney World, and TV and Film. Most recently, serveral of her tap students were selected to compete at the World Tap Festival in Germany...think Olympics for tap!

Angela Shanks (Brooks): Founding Executive Directo

r
The San Angelo Broadway Academy Youth Theatre is a non-profit educational performing arts facility that cultivates the minds of students with positive social and self awareness, stimulates imaginations, and gives them the tools they need to reach for their goals and dreams. The academy provides a professional and high level of education to children and youth in theatre arts, dance, and vocal performance by trained professionals in a positive environment.
Theatre Educators
Tyler Lewis
Genelle Willis: Piano Instructor
GeNelle Willis grew up visiting her grandparents in the San Angelo area and is now proud to call this area her home. She holds a Bachelor of Music in piano from Howard Payne University and a bachelor's degree in flute and music education from Angelo State University. She has taught private piano and flute since 2008 in Fort Worth, Pecos, and San Angelo, and has had several flute students place in the top 10 chairs at All-Region & All-Area band competitions. She is also an experienced accompanist and has been privileged to accompany for the music departments of Howard Payne University, Angelo State University, Southwestern Seminary, the choral departments of Central High School, Lake View High School, Lincoln Middle School, Glenn Middle School, and several local churches. GeNelle enjoys spending time with her family, her dog, and her favorite books and movies.

Jessica has 36 years of experience in both instrumental and vocal music. She has performed with choral ensembles across the country and overseas. Her music experience ranges from Musicals to Jazz, Classical to Worship. Jessica has a Bachelor of Music Education from Angelo State University and currently teaches at Central High School. She previously attended West Texas A&M University where she studied voice with Dr. Cloyce Kuhnert. Jessica and her husband Josh have been married for 19 years and have three children, Sarah, who will be attending West Texas A&M this fall to study theater education, Hannah, who is in the Central High School Choir, and Jonathan, who is a percussionist in the Lee Middle School Band. Jessica not only teaches voice at SABA, but also serves as the music director for summer camp programs. Jessica is excited to be joining the SABA family and share her love and passion for music with the students of San Angelo.

Kim Abel Snell, a pianist and vocalist, has been a professional musician for more than 30 years. She has performed as a solo act; as part of numerous ensembles, choirs and bands; and as a studio musician. After living and performing in Austin for twelve years, Kim moved back to San Angelo with her family, taught in SAISD schools for 5 years, and began directing musicals in 2005 with Angelo Civic Theatre, where she was involved in 14 musical productions. She joined San Angelo Broadway Academy in the fall of 2009, first as musical director for "Scrooge the Musical", then as a voice teacher. She strives to help her students develop their own unique voices using proper techniques (and through a variety of musical genres) to become well-rounded performers.
Sarah is so excited to be returning to SABA to teach the next group of talented students! She began dancing and singing from the age of 5, and started pursuing the arts more seriously upon reaching high school. She has had the pleasure of training with Broadway professionals such as Sierra Boggess, Kara Lindsay, Andrew Keenan Bolger, and Christy Altomare as well as performing on SABA stages in productions such as Alice In Wonderland, Seussical and Newsies to name a few.


Since her time at SABA, Sarah has taught multi-genere acting classes to students age 3-18, directed several productions such as Little Women, and has served as stage mananger for the last 2 seasons for SABA's mainstage performances.
Myia is a classically trained ballet dancer from Fort Worth and a senior dance major at Grand Canyon University in Arizona. Myia is extensively trained in Cecchetti, Vaganova, and Balanchine Methods as well as Modern and Contemporary techniques such as Graham, Dunham, Limón, and Horton. While at Grand Canyon University, Myia studied partnering in both ballet and contemporary dance. Myia has taught ballet and other dance genres at the The Phoenix Dance Studio and Arazando Dance as well as pointe at the Juice Box Dance Academy. She has also had the privilege of choreographing for the Dallas Academy of Music and Performing Arts and the Lake Country Christian School fine arts department. Along with her infectious personality and energy, Along with her infectious personality and energy, Myia brings a vast knowledge of not only technical ballet, but other dance generes as well to the dance program at SABA!
Braden Jowers: Hip Hop Instructor / Resident Choreographer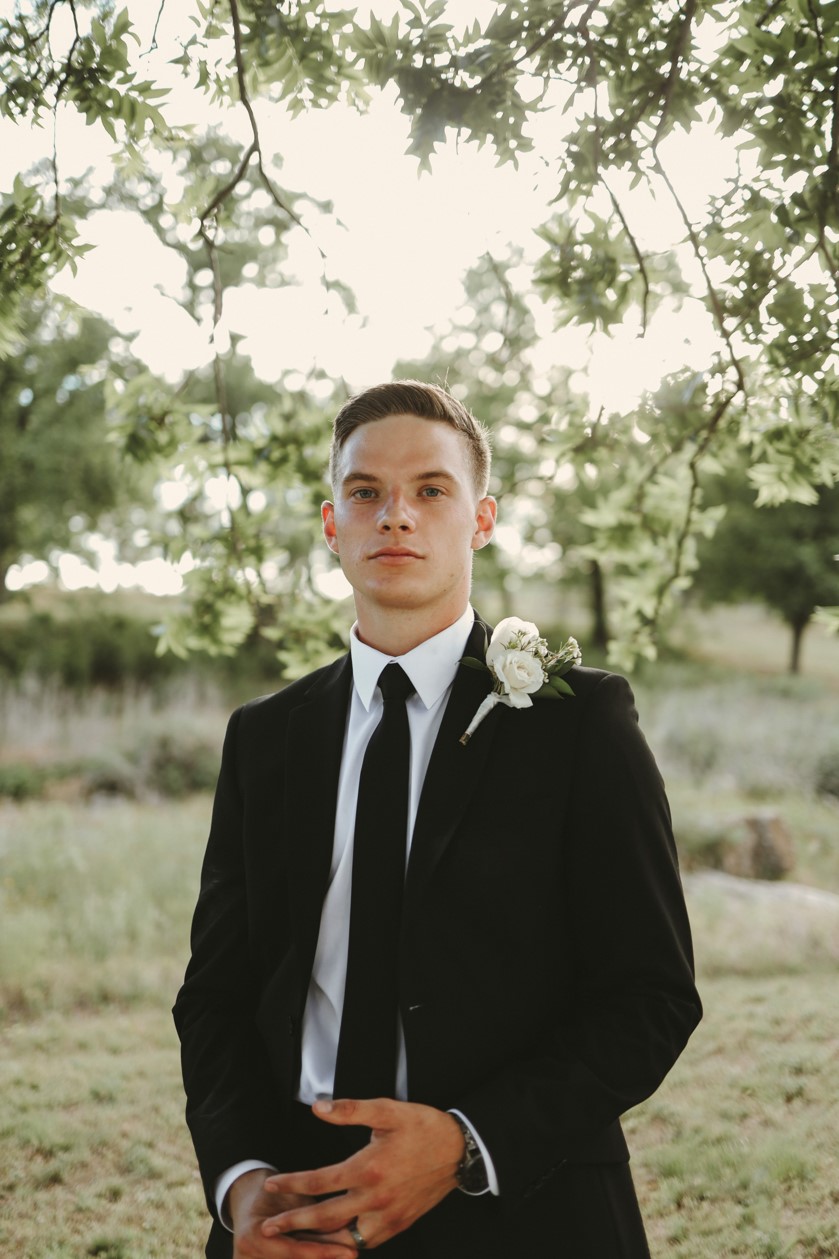 Braden Jowers began his dance training at the age of 11 with Hip Hop classes at San Angelo Broadway Academy. After a few years on the competition team, he began also training in Ballet, Jazz, Tap, and Contemporary. At a Dallas day intensive in 2017 he was given a half scholarship by Chehon Wespi-Tschopp to the IAMForce winter intensive 2017 in Los Angeles, California where he then earned a full scholarship to the IAMForce Summer intensive 2018. After being accepted to both UNCSA and UNT Dance Programs, Braden chose to stay close to family and attend UNT to major in Dance. After his Freshman Year he was selected along with 29 other dancers to attend the prestigious Hubbard Street Dance Company Summer Intensive 2019 in Chicago, Illinois. Throughout his career he has trained and performed with many top Choreographers and Companies across the nation. After moving back to San Angelo to take care of his health, be with family, and marry the love of his life Braden is excited to begin choreographing and training the students here at San Angelo Broadway Academy.
Jessica Olson: Voice Instructor
Tyler Lewis: Voice and Piano Instructor
Bio Coming Soon
Ciera Juarez has been growing her acting chops on stage since she was 8 years old! in the last 10 years she has taken on more roles then most students at SABA, from backstage tech crew, spot light operator, camp counselor, and so much more. She is also heavily involved in Community Theatre as well! Some of her most iconic roles she has been seen as is Rafiki in Lion King Jr, Grandma Addams in The Addams Family and Paulette in Legally Blonde.
Ciera commands the stage with her comedic timing and flair for life! She has performed with the SABA theatrical resident company in California, and Disney World and has had the pleasure of training with Broadway professionals such as Sierra Boggess, Kara Lindsay, Andrew Keenan Bolger, Laura Belle Bundy, Christy Altomare, Ethan Slater and more!
Outside of SABA Ciera focuses on video and multi media production for several local businesses and non profit organizations. She went to State for Digital Pulishing and was invited to share her talents in multimedia development with Number Juan Tequila and Comedian Alex Reymundo as seen on Netflix and other streaming platforms.
Ciera enjoys working with children of all ages and helping them learn to love theatre and performing as much as she does.
Ciera Juarez

: Media Relations Director / Theatre Educator
Sarah Dunlap: Theatre Education Director

/Early Childhood Dance